Yesterday, I used my lunch time to run again. I've learned a couple of really important things about how my running tends to go. Basically the first half mile and the last half mile are the worst parts.
For the first part of the run my knees tend to complain a lot. The little pains that go through them when I land make me consider turning around. My knees always think this is a good idea. They would really like to be at my desk (or on the couch) instead of out on the sidewalk. They are very persuasive too. I keep saying no, but they are like a toddler that can see cookies. They can still see where we started and know that it would take almost no effort to stop and just go home.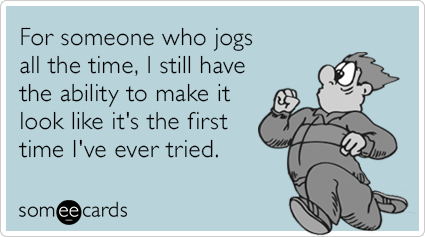 After a lot of ignoring them (and self-doubt), I seem to be able to convince them that we are not going home. Damn it, we are going for a run. Now shut up so I can listen to my music. They then do what I said and generally don't make another peep until 15 minutes after I quit (when they would like ice, thank you very much).
The last half mile is where I start to doubt myself. I'm not sure I can really go that far. My stomach is starting to feel funny and I would really like to sit down. Or just fall down really. It seems too far and my head starts saying that I have gone far enough. I could totally stop early and no one would know. I WOULD KNOW!
Eventually, my phone app tells me that I have met my distance goal and I get to stop. Which means that 20 seconds later I am thinking that I probably could have gone farther. *sigh* My head can't seem to make up its mind. Which is silly. It really should be able to pull itself together at some point.
The weird thing (to me) is that this seems to happen at the same place in my run, no matter what distance I am going. It's always that first and last bit where I really question myself. The stuff in the middle tends to go a little better. Any ideas on how I get my mind to STFU?